Enjoy monthly selections of fresh seafood, recipes & wine pairings. Whatever we don't farm ourselves, we buy fresh at the wholesale market and pass on the savings to you.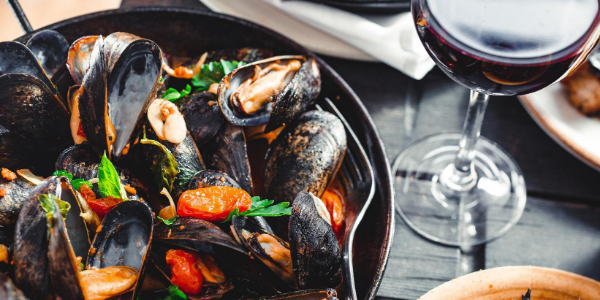 ---
SEPTEMBER SELECTION
2 doz Local, freshly harvested Miyagi oysters (XS)

2 lbs fresh halibut filets
Feeds four 
Tides Member Price: $51.52 Market Price: $64.40
Pick up date: Friday September 4th · 11am – 4pm
Email Lindsey to order this box.
---
RECIPE OF THE MONTH
Halibut Fillets with Tomatoes, Squash, and Basil [pdf]
This easy recipe gets you in and out of the kitchen in :30 minutes.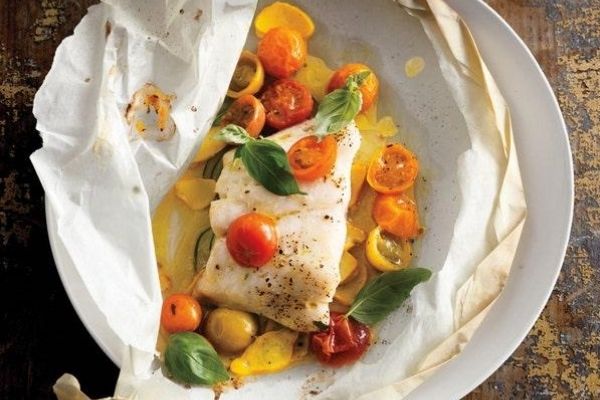 This versatile dish is a great way to enjoy
the bounty of late summer!
2 cups very thinly sliced assorted summer squash (such as zucchini, yellow crookneck, and pattypan)
1/4 cup thinly sliced shallots
1/4 cup thinly sliced fresh basil, divided, plus 1/4 cup basil leaves
20 cherry tomatoes, halved
4 tablespoons dry white wine
4 tablespoons extra-virgin olive oil, divided
Kosher salt & freshly ground pepper to taste
4 6-ounce halibut fillets
Place four 14×12″ sheets of parchment paper, or heavy-duty foil if grilling, on a work surface. Divide squash among parchment sheets, arranging on one side of sheet in thin layers. Sprinkle shallots and sliced basil, dividing equally. Scatter tomato halves around squash. Drizzle each packet with 1 tablespoon wine & 1/2 tablespoon oil (+ 1/2 tablespoon water if grilling). Season with salt and pepper. Place a fish fillet atop each portion. Season with salt and pepper; drizzle 1/2 tablespoon oil over each.
Preheat oven to 400°F. Place packets in a single layer on a large rimmed baking sheet. Alternatively, build a medium fire in a charcoal grill, or heat a gas grill to medium-high. Bake or grill fish until just cooked through (a toothpick poked through the parchment will slide through fish easily), about 10 minutes. Carefully cut open packets (steam will escape). Garnish with basil leaves.
---
NOTES ON PICK UP
In "normal times", pick up days are fun social gatherings, with free appetizers for club members and personal time with our store manager and club put-together-er, Lindsey.
However, due to Covid-19 restrictions, this month we will only be able to greet you in the shop. We will be happy to see you & smiling under our masks.