Your help is needed!  Ocean trash is a global problem that has local solutions.  Be part of the solution on Saturday, September 16th.  We are partnering with Nick's Cove Restaurant for International Coastal Cleanup Day.  From 9am to 12pm, come help clean up Tomales Bay and then enjoy BBQ oysters from us, and other lunch options catered by Nick's Cove.  Free to all volunteers! This is a family friendly event so kids, parents, and grandparents are all welcome.  Email lindsey@bodegabayoyster.com to sign up.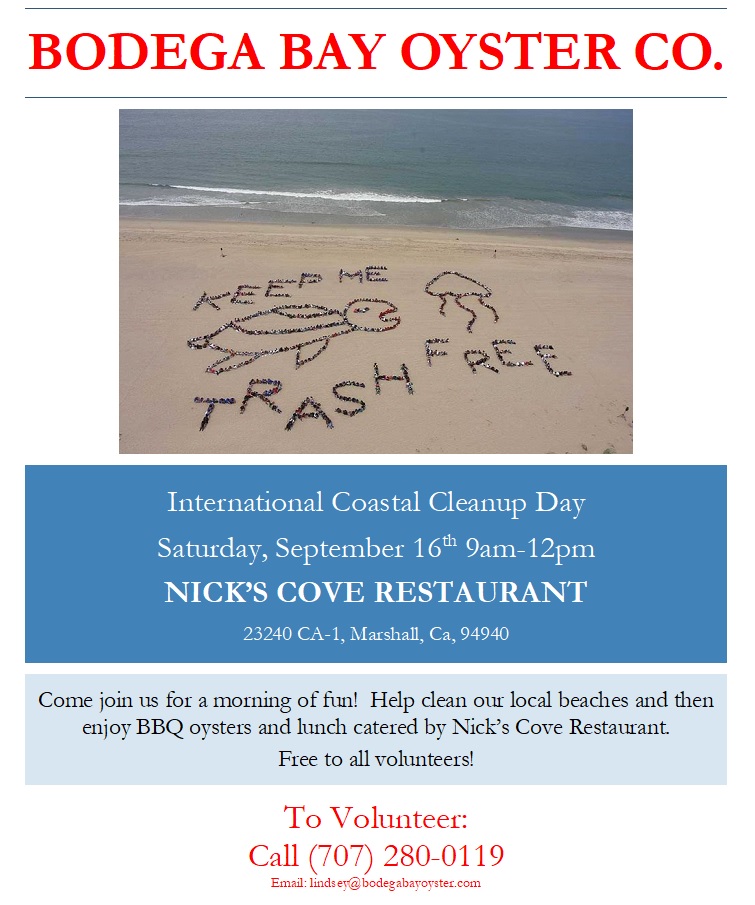 Our shellfish are the freshest in the county due to the purity of the waters of Tomales Bay, the techniques used to grow and nurture the shellfish, and our careful harvesting and handling of the product.
All our shellfish are locally grown in Tomales Bay and the Walker Creek Estero. Starting with only 5 acres in 1985, we now lease 92 acres producing Bodega Miyagis, Point Reyes Kumamotos, Bodega Gallo mussels, and Walker Creek Manila clams.
Each species has a preferred habitat. Our mussels thrive in the water column. We keep our oysters at the surface of the substrate, and we bury our clams in the sand they like.