Growing the Best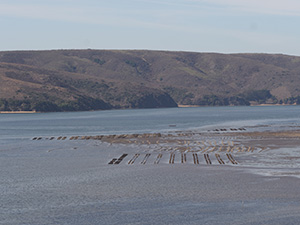 Each species has a preferred habitat. Our mussels thrive in the water column. We keep our oysters at the surface of the substrate, and we bury our clams in the sand they like.
We add gravel to the bags when planting our clams and then carefully bed the bags in sand so that they are partially sunken. Our Kumamoto oysters are elevated in racked bags to minimize fouling during their two-year growing period, while our Miyagi and Atlantic oysters enjoy being cultured directly on the substrate and require only occasional jostling to help them grow uniformly. Our mussels are grown on rafts where they can be enclosed in nets to protect them from predators.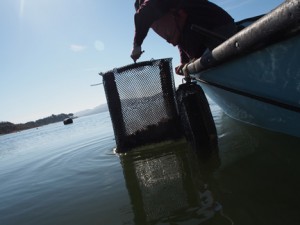 All of our shellfish are sorted and sized by hand and returned to deep water in Tomales Bay where they naturally purge themselves of any sand and grit before going to market.
In order to provide you with the best quality shellfish, we are ever vigilant to the threats to our bay and its water. Bodega Bay Oyster Company has replaced our old, inefficient outboard motors with the latest, most fuel-efficient motors available and we regularly patrol the shoreline around our growing areas to remove trash and debris.